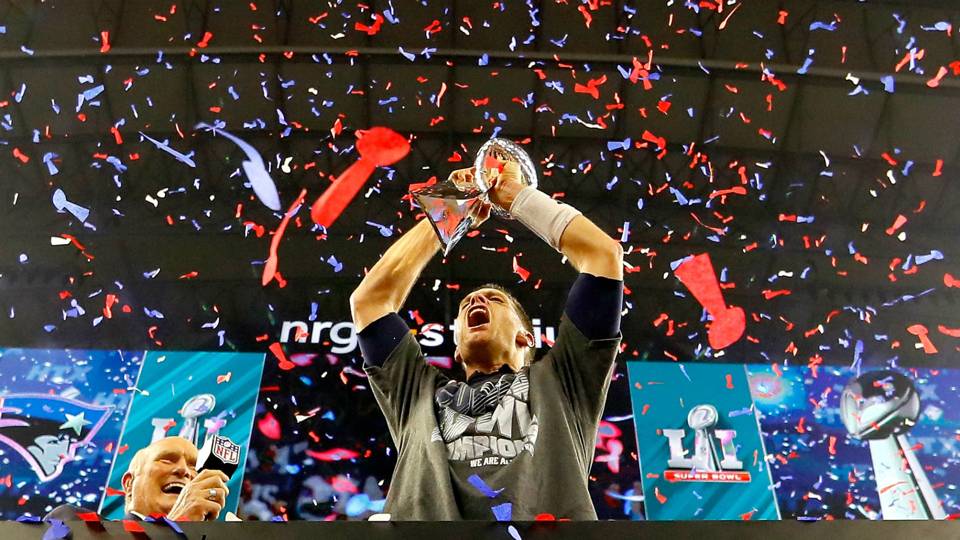 Congrats to the Patriots, who now hold 9.8% of the 51 SB crowns. How can their achievement inform
your
job-search efforts? We thought long & hard (ok, we gave it about 2 minutes consideration) and came up with this:
Never give up. Don't despair when things look bleak, keep at it, and you're likely to get a good break or metaphorical lucky bounce that makes all the difference. You know, the same things your 5th grade P.E. instructor or J.V. basketball coach told you several years ago.
Have Tom Brady and/or Bill Belichick help you with your job search; certainly couldn't hurt.
We're just glad this whole thing is over so we can now fully concentrate on the

Caps

as well as the continuing what's going to happen w/ Kirk? drama (oh please, make it stop).
That help you? No?
Well then, how about some terrific jobs today, as well as
previously noted opportunities
closing this week?
Get to it.
The
Edison Electric Institute
is in search mode for a
Media Relations Manager
(scroll down) with at least five years of applicable experience in communications, PR, journalism, or press-related experience on Capitol Hill or in an association, agency, corporation, or government setting; energy background a plus.
Gide Public Affairs
is actively recruiting for this part-time
Research Intern
post suited for self-motivated, detail-oriented candidates with background and interest in public policy and state, local, or federal legislative process.
Biotechnology Industry Organization
Kellen Company
–
Government Relations & Policy Associate
– seeking candidate with 2+ years' experience working for a member of Congress, a relevant federal agency, or a health care trade association on health care delivery issues & regulatory engagement.
12+ years media relations experience in a major human service organization, public relations firm, government role or major corporation merits you consideration for
Director, Thought Leadership & Media Relations
(pretty neat title, we think) with hunger relief stalwart
Feeding America
– see also
main career page
Carnegie Endowment for International Peace
–
Development/Fundraising Assistant
– previous experience with fundraising and/or development & a strong interest in international affairs preferred – apply by
Feb. 7
New with the
Center for International Policy
since our
January think tank special
:
National Association of Chain Drug Stores
–
Media Relations Director
– up to 7 years' experience in media relations within association, corporation, agency or government preferred.
AARP
United We Dream
seeks
Communications Director
with at least 5 years of communications or relevant experience; fluency in Spanish preferred – apply by Feb. 15
The
American Immigration Council
seeks
Communications Associate
with 3-5 years' experience in communications or journalism; bilingual skills and an understanding of multi-cultural communications deemed desirable.
Also new since the above-referenced think tank extravaganza at
American Enterprise Institute
:
George Washington University
–
Office Coordinator, Development Operations
– one & a half years or more of relevant office experience desired – apply by Feb. 13
Cruise Lines International Association
–
Director, Public Affairs
– 10-15 years of strategic public affairs experience required, journalism background a plus.
Johns Hopkins University
– Baltimore MD, except as noted:
Washington Metropolitan Airports Authority
seeks
Corporate Relations Program Manager
to drive corporate/community relations & public outreach to strengthen awareness & public perceptions of MWAA's extensive & essential work – $108k-$157k – apply by Feb. 19
National Association of Conservation Districts
–
Interns
(scroll down) – interest in natural resources policy, environmental science, or agricultural fields preferred